Nowadays, kits of portable pod systems are increasingly present on the market of vapers.
VOOPOO
recently released two kits of this type, of impressive quality, containing 5.5 ml of electronic juice. We know that the Voopoo Vinci series is another masterpiece of the Voopoo brand, including the Voopoo Vinci Mod Pod kit and the Voopoo Vinci R Mod Pod kit, which are all very good. Are there actual differences between them? Let us find it!
VOOPOO
VINCI Mod Pod Kit
is a new innovative ultra-portable pod mod kit that combining the advantages of both pod devices and box mods. Powered by the new generation of GENE.AI chip with 1500mAh built-in battery, it can fire up to 40W output, and support manual and auto modes to meet your different vaping needs. It is constructed from zinc alloy material which is decorated with various pattern panels to give you a different sense of vision. With the 0.96″ inch TFT colorful screen, it can show you the status of the battery as well as the 2-week usage record of your device. What's more, the VINCI Mod Pod features the intelligently adjustable power to match coils and bring an excellent flavor.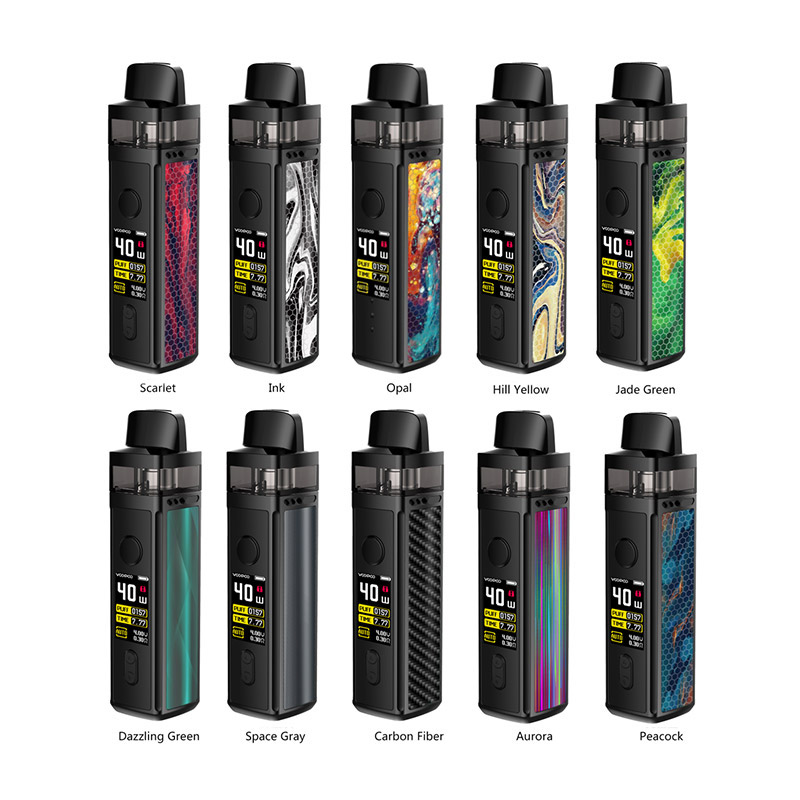 VOOPOO VINCI R Kit is an intelligent Mod Pod Kit with a new generation of GENE.AI chip and adopts manual & auto modes to meet your different vape needs. It is powered by a 1500mAh built-in battery and comes with a 5.5ml large e-juice capacity. With the inbuilt GENE.AI chip, you can adjust the output voltage to 3.8/3.5/3.2v and activate inhaling with the big cloud. Adopting the new 0.3ohm PnP-VM1 Mesh Coil, it will bring you satisfying clouds of delectable vapor, designed for DTL vaping as it effectively vaporizes the eJuice with ease.
To distinguish between the two Vinci devices, Voopoo made some adjustments to Vinci R by removing the color screen configuration and adding color indicators. There is now only one button on the Vinci R, so the operation will be more simplified. Click the ignition button three times to adjust the output voltage. One indicator light stands for 3.3v, two lights indicate 3.5v, and three indicators represent 3.7v.
In short, you can think of Vinci R as a streamlined version of Vinci. Or you can think like this, Voopoo Vinci is a luxury version,
Voopoo Vinci R
is a regular version. It depends on which one you like.